Main content starts here, tab to start navigating
Electrostatic Sprayers
Updated September 29, 2020
In addition to our rigorous practices designed to keep our guests and staff safe and healthy, we now employ electrostatic sprayers at each of our restaurants. Following a daily deep-clean, these sprayers further disinfect each restaurant entirely every day.
Below is our updated Tasty Safety Pledge to reflect this new addition.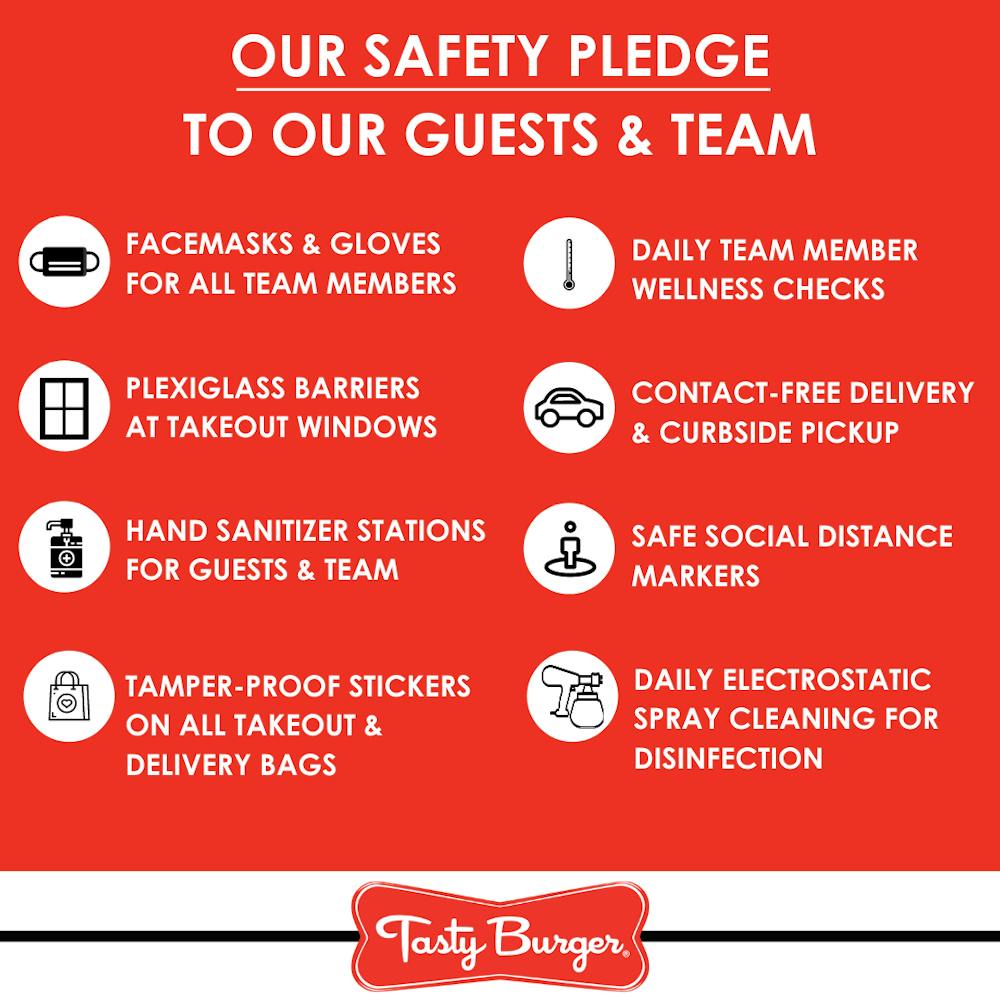 Back Bay is Open!
Updated July 10, 2020
Today we reopened Tasty Burger Back Bay at 145 Dartmouth Street. While our dining room & bar remain closed, our counter is open for takeout & delivery. Our patio is also open for self-serve dining featuring our full menu, including beer & wine!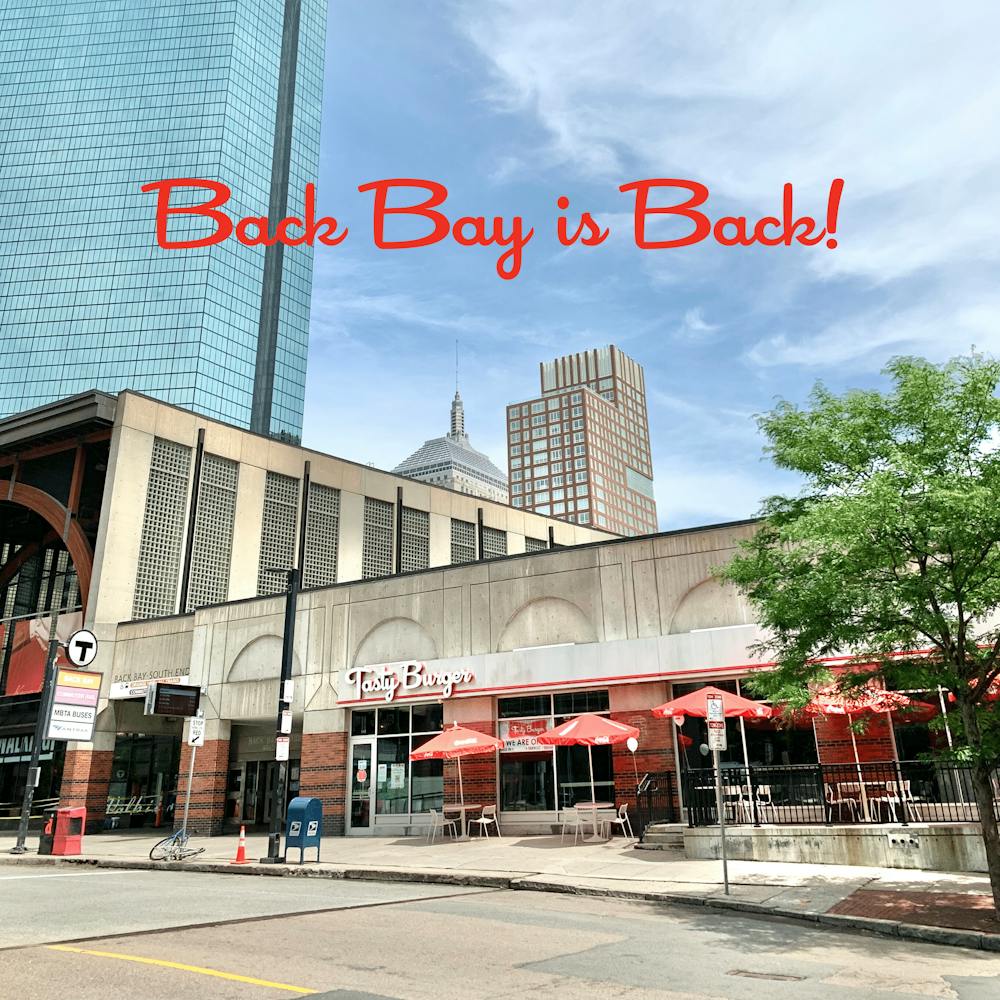 North Station is Open!
Updated July 2, 2020
Today we reopened Tasty Burger North Station (1 Nashua Street). Our takeout window is open 11am to 9pm every day. The dining room is open too for self-serve dining. Place your order online now!

Dining Rooms Are Open!
Updated June 22, 2020
As of Monday, June 22, 2020, our dining rooms are open at Fenway (full-service), Harvard Square and Downtown Crossing.
Downtown Crossing Now Open!
Updated June 19, 2020
On Friday, June 19, 2020, we opened our newest location in Downtown Crossing at 48 Winter Street! Tasty DTX is open 11am to 9pm daily. Order online for pickup!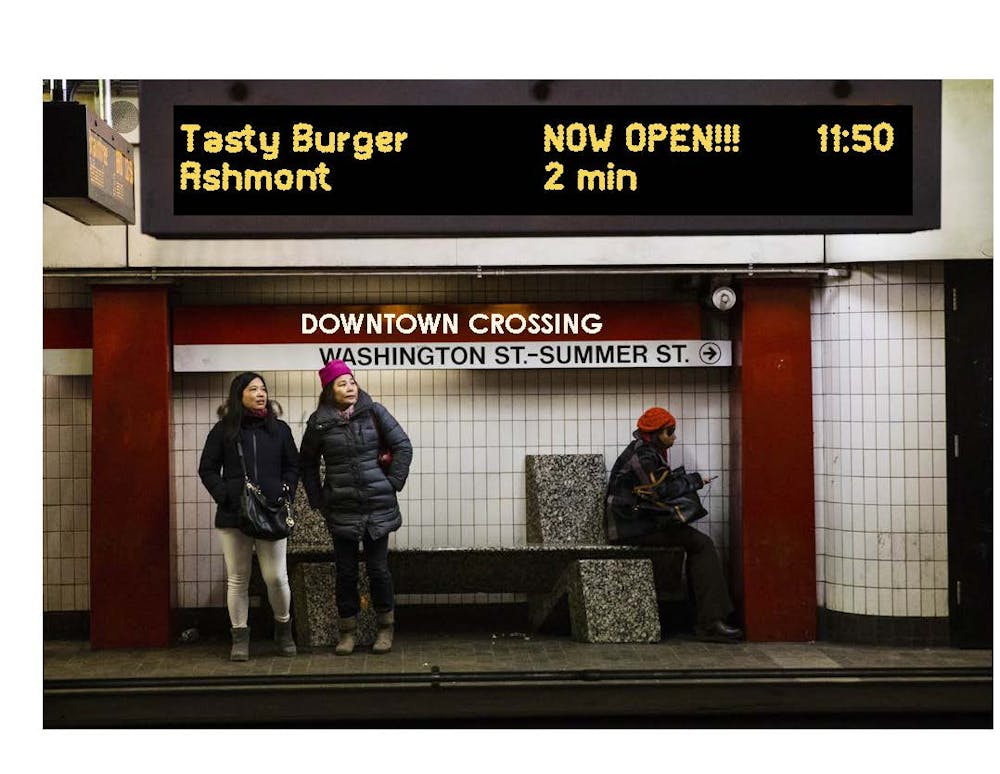 Fenway Patio Dining
Updated June 8, 2020
On Monday, June 8, 2020, our Fenway location opens its patio for full-service dining. Guests will be seated at tables on our patio that are a minimum of six feet apart and must wear masks until seated. We will also collect the name and phone number from at least one person per party, as required by new guidelines. Our full menu is available, including beer & wine. We can't wait to see everyone!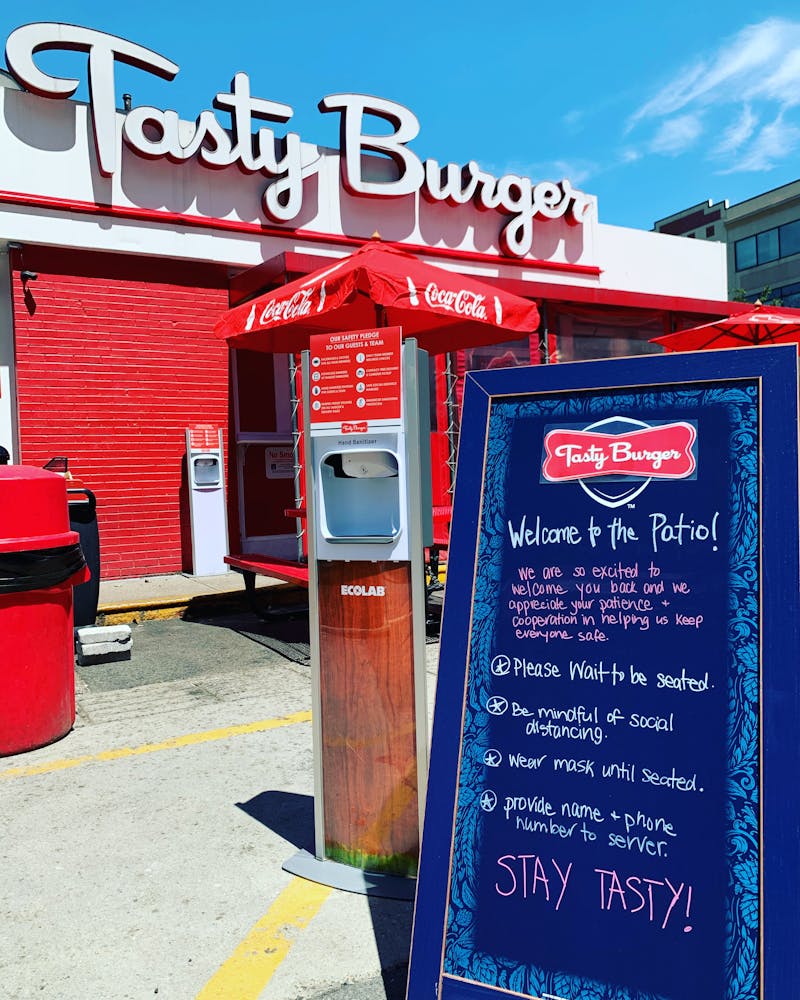 Harvard Square Reopening
Updated May 20, 2020
On Thursday, May 21, our Harvard Square location will be open for takeout & delivery, seven days a week from 11am to 8pm. You can place your order online here.
We continue to update our Safety Pledge to our customers and our team.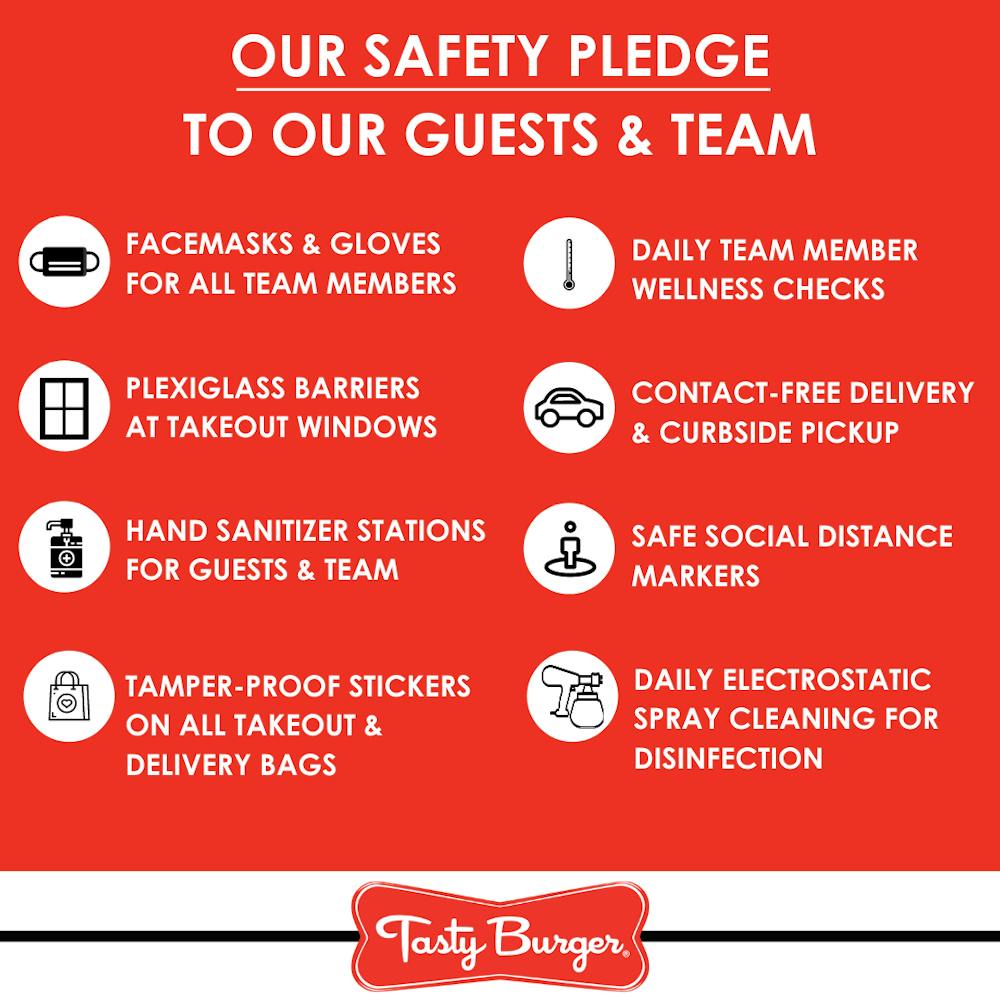 Fenway Reopening
Updated May 11, 2020
Since closing our locations in mid-March, we have worked tirelessly on new systems and protocols that will keep our customers and team safe and healthy upon reopening. We are excited to reopen our original Fenway location (1301 Boylston Street, Boston) on Tuesday, May 12, 2020 with these new systems in place.
In addition to our Safety Pledge below, we continue to practice safe food handling and sanitization as we always have. These are outlined below in our March 13 update. Additionally, we are reviewing and implementing the Mandatory Workplace Safety Standards announced today by Governor Baker.
These measures are coupled with our new ONLINE ORDERING system that allows for pickup and contactless curbside pickup. You can now order and pay online here. We continue to provide contactless delivery via UberEATS.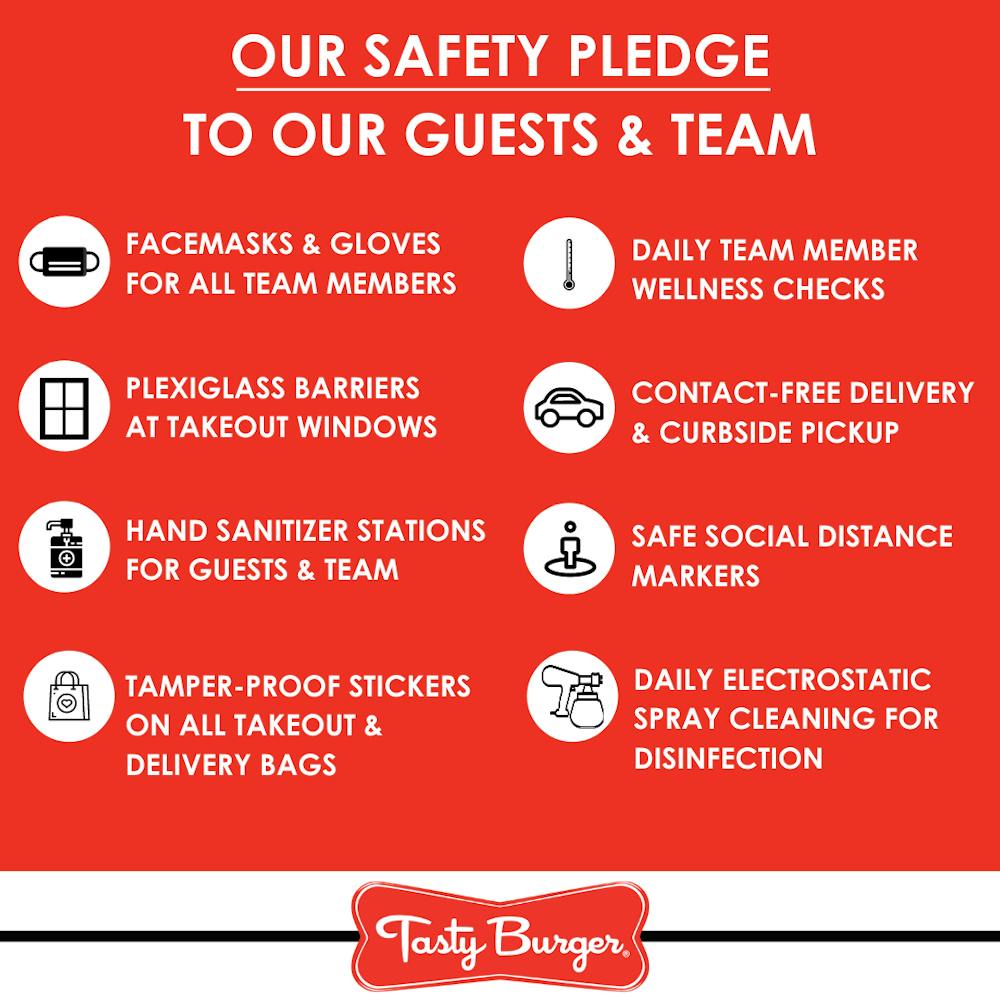 --
Our Response to Covid-19
Updated March 13, 2020
We know information is moving very quickly, and is most likely disruptive to your daily life. We want you to know that Tasty Burger understands and makes the health and safety of our guests and team members our top priority.
Our existing practices are being supplemented with new procedures every day to ensure the well being of everyone who orders food in or from our restaurants. Though studies show that coronavirus does not survive in food, we have always employed rigorous practices to prevent the spread of germs in our restaurants. These procedures, strongly enforced through regular operational oversight, include:
Regular and effective hand-washing practices for all team members;

Diligent safe food handling practices to prevent contamination;

Alcohol-based hand sanitizer stations throughout our kitchen and restaurant for use by team members and guests;

Nightly deep cleaning and sanitization by a professional cleaning service at each of our locations;

Frequent cleaning and sanitization of floors, walls, seats, countertops and equipment throughout our hours of operation;

Proper disposal of any equipment and materials used in cleaning and sanitization;

Require any team member exhibiting flu-like symptoms to stay home until symptom-free;

Require team members who call out sick with flu-like symptoms to produce a doctor's note clearing them to handle food once they return to work;

Regular and random spot-checks with suppliers (and their supply chains) to ensure that every product that comes through our doors upholds the same rigorous practices that we employ.
We are committed to keeping not only our customers safe and healthy, but also our team members. While the above sanitation measures protect our team physically, we are also committed to supporting our staff and their families during these uncertain times. Your continued business (whether in-person, for takeout or online ordering) is appreciated, beyond measure, from everyone whose livelihood depends on it here at Tasty Burger.
We want to thank everyone for your support of our small, local business during these trying times. Whether it's buying a gift card to use later, calling in a takeout order, or placing a pickup/delivery order online, the entire Tasty team appreciates your support.
In times of uncertainty, it is important to stay calm and stay healthy. At Tasty Burger, we look forward to continuing to welcome and take care of our guests. When you walk through our doors, we want to assure you that we are doing everything we can to provide a safe and enjoyable experience. You are always welcome at Tasty Burger.
As the situation progresses, we will monitor and implement additional safeguards and procedures as recommended by the Centers for Disease Control and Prevention (CDC) as well as the Boston & Cambridge Public Health Commission. If you have additional questions, please do not hesitate to reach out to hello@tastyburger.com.
Stay healthy, stay calm, and please take care of each other. Tasty Burger is open for business and here if you need us.
David DuBois
CEO, Tasty Burger